100% Grass Fed & Grass Finished Beef & Lamb
Certified Organic Meat Direct From The Farmer
Our Products
A Family Tradition
The Blundy family converted to organic farming 20 years ago; the 'light bulb moment' occurred when Shane was ploughing a paddock, he looked behind at the soil he had just ploughed and realised the soil wasn't like it used to be when he was a child growing up on the farm in the 1960s.
Read Our Story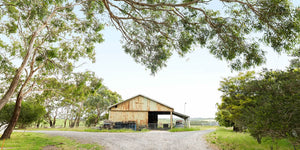 Cherry Tree Downs Farm
'Cherry Tree Downs' is an organic beef and lamb farm located 165 kilometres from Melbourne in picturesque South Gippsland, a region renowned for its crisp, fresh air and pristine clean water. 
Our Farm
Cherry Tree Organics products can be purchased online or from our stockists
1. YOU ORDER
From our range of certified organic beef, lamb, chicken & pork.
2. WE DELIVER
In a refrigerated, PrimeSafe accredited vehicle to your home.
3. YOU COOK
The highest quality, ethically raised and sustainably sourced meat.